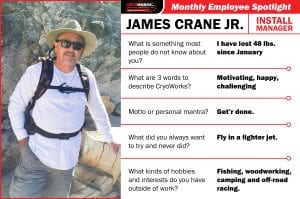 While 
CryoWorks
 has an undeniable commitment to 
installing complex piping systems
, we also appreciate the people behind the pipes. As such, the CryoSpotlight is shining on CryoWorks employee, James "BIGCAT" Crane Jr. (nickname capitalization is a must). Crane's is the Install Service Manager and is also a man who relishes in outdoor activities when he isn't installing pipes! "I like fishing, woodworking, camping, and off-road racing," Crane says when describing his leisure interests. And since the pandemic, Crane has completed the honey dues and has started taking longer walks than usual. His ambition to fly in a fighter jet also complements his hands-on, nature-friendly pastimes. 
Now, we're probably all wondering the same thing: What's the history behind that nickname? "I don't have an office nickname," Crane says. He simply goes by "BIGCAT," and that's just what it is! Now, considering his nickname, one might assume he would be a big cat if he had a choice to be any animal, but he actually prefers a bird. "It would be cool to fly," Crane says. And if he were a bird, Crane would probably be a crane, and he would likely fly to Alaska since Alaskan Cruises was the best vacation he's ever experienced.
"Most people don't know that I've lost 48 pounds since January," Crane says. So, if we combine his current weight loss with his newfound bird ability to fly, Crane will continue shedding weight all the while freely exploring the natural wonders of Alaska at a birds-eye view (let's vote to change that nickname to BIGBIRD). Meanwhile, if we could fly, we'd without a doubt use our abilities to circumvent traffic and avoid being late to work…but that's another conversation for another time.
Speaking of work, we asked Crane to describe CryoWorks in three words. He said: "Motivating, happy, and challenging." Though we thought he would say "fly" (because of the whole bird thing), we appreciate his picks. And we see why he describes CryoWorks as motivating and challenging; engineering, designing, installing, and maintaining cryogenic transfer systems for a wide variety of organizations is no easy task! Yet, Crane does well in turning challenges into opportunities to become motivated. This goes hand-in-hand with his desire to grow with the company within the next ten years. "I also wouldn't mind retiring within that time frame," Crane adds.
As a retiree, Crane will likely be able to spend more time with the one thing he can't live without, his wife! Together, they'll also have more time to spend doing some of his favorite things — eating great food, hanging out with friends and family, and screaming his personal mantra, Get-'R-Done, at the top of his lungs while watching either the San Francisco 49ers and the San Francisco Giants play for their teams' victories!
Stay tuned for more employee spotlights and don't forget to check out our past CryoSpotlights: