Here at CryoWorks, we pride ourselves in our mission to Make it Happen, Make it Easy, and Make it Fun! Our Technical Sales Team drives our mission from the start of a proposal to the end of the project, a component Tim Mast Sr., Founder and Chairman of CryoWorks, considers a key ingredient in our recipe for success. "I started my Cryogenic Piping Career in Sales and Design, and I cannot stress enough how customers come to appreciate having a single point of contact when inquiring about bids, field dimensioning, designing, scheduling, installation, and maintenance" said Tim Mast Sr. With each inquiry that comes to CryoWorks, a Technical Sales Representative provides a prompt reply and begins assisting in any way they can. The Technical Sales Team is equipped to assist on projects of all sizes, from small Cryo-Sauna applications to Rocket Launch Complexes.
With the wide range of markets serviced by the cryogenic piping industry, it is no surprise that the Technical Sales Team consists of team members with diverse backgrounds, such as installation/service, engineering, sales and marketing, and mechanical drafting, which results in our ability to provide innovative solutions for each customer. Most of the team members that join the Technical Sales Team come from other internal departments, bringing on their own skillsets and experiences as a foundation to further build upon. The collaborative environment fostered by the management team provides the ideal forum for Technical Sales Team member knowledge sharing and group learning.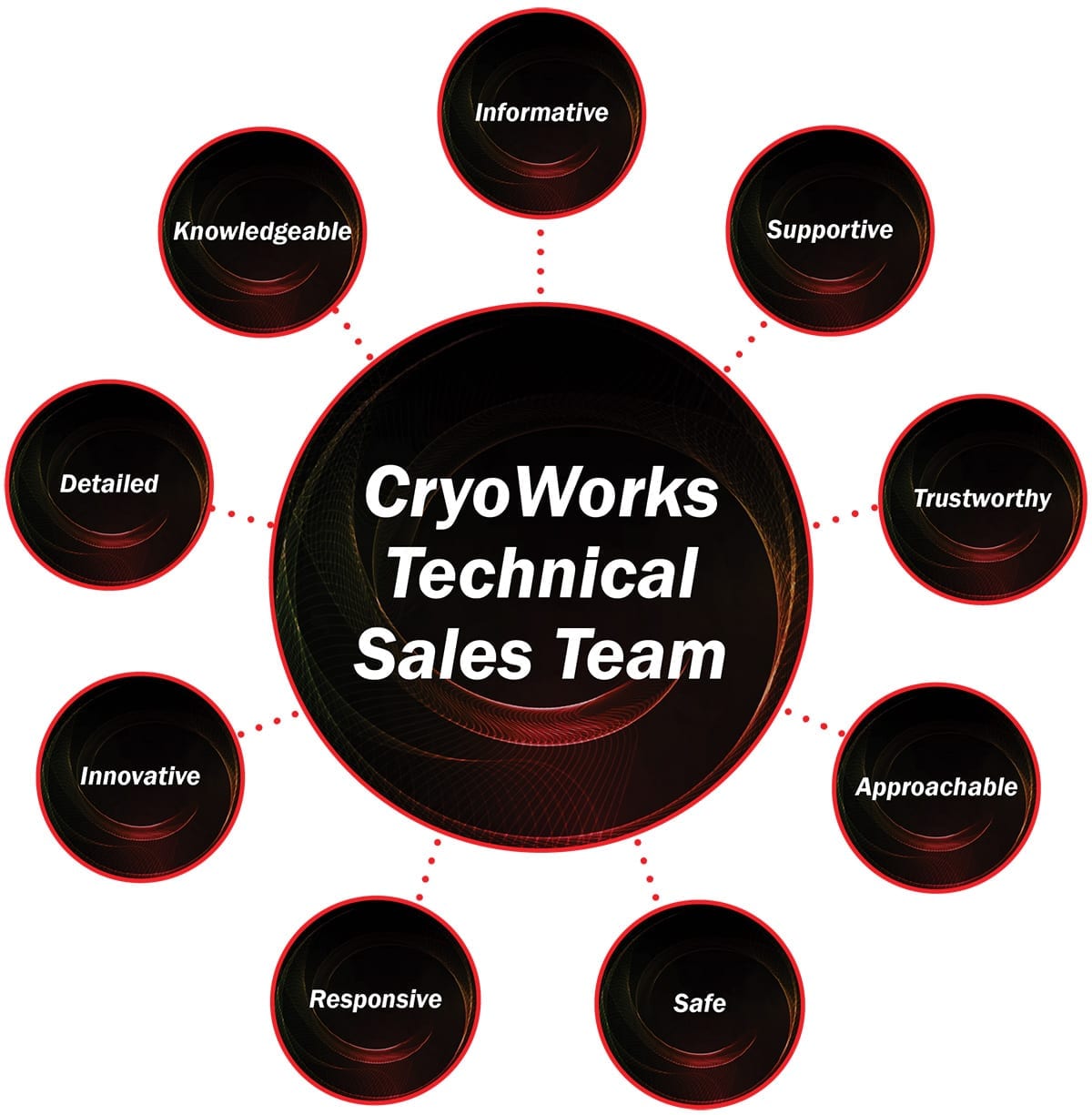 From the moment a Technical Sales Representative meets with a customer onsite they will interact with a primary sales team member to inquire about details on drawings, renderings, measurements, installations, and delivery schedules. Although customers interact with a single point of contact, our Technical Sales Representatives are supported by our knowledgeable design department, sales colleagues, and operations team throughout the duration of the project. Because of their support, the customer will receive a well-rounded system, optimized for fabrication, installation, and maintenance. This collaborative team allows CryoWorks to provide our customers with turnkey solutions.
At CryoWorks, we value continuous improvement and ongoing education/training. Our team members continually strive to improve on their processes to increase efficiencies, keep enhancing their attention to detail, and remain safety conscious. The culture around continuous improvement allows our Technical Sales Representatives to provide innovative options and solutions to educate and assist our customers with up-and-coming applications as well as existing ones.
Whether a flexible vacuum insulated hose is needed or a complex piping system is in the works, let our CryoWorks Technical Sales Team be a part of your next project! Reach out to one of our Technical Sales Representatives today and find out firsthand how at CryoWorks we Make it Happen, Make it Easy, and Make it Fun!