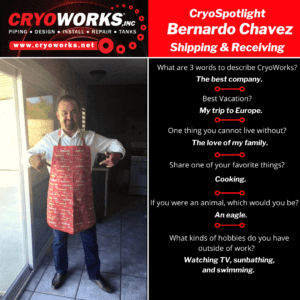 CryoSpotlight shines bright on Bernardo Chavez, our Shipping and Receiving team member!
When Chavez isn't packing complex systems, he is found encouraging those around him, by saying "yes you can"! He feels grateful for the trust he has earned from his peers to keep learning and expanding on projects but for the opportunity to have joined the CryoWorks family. Before joining CryoWorks in 2016, he dreamed of playing soccer professionally, which is no coincidence why he enjoys watching soccer and football!
Outside of the shop, Bernardo enjoys spending time with his family, sunbathing, swimming, and cooking! Most recently, his family grew with the newest addition of a puppy. Chavez considers the love of his family to be something he can't live without! 
In the next couple of years, he hopes to be retired and if lucky enough, repeating the best vacation he has been on to Europe.  
Stay tuned for more employee spotlights and don't forget to check out our past CryoSpotlights!