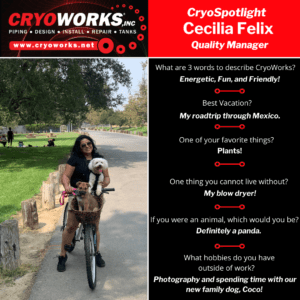 Our CryoSpotlight shines on our Quality Manager, Cecilia Felix!
Since joining CryoWorks in 2017, Cecilia ensures that the manufacturing process at CryoWorks is carried out with excellence and consistency. With her strong attention to detail, she implements changes to any issue that arises and takes measures to make sure it is enforced. You can always count on Cecilia for a quick chat over coffee to learn about new processes in place as well as any changes that have taken place. In the next 10 years, she would like to see CryoWorks as the household name for all cryogenic needs!
Outside of work, she enjoys spending time with her new four-legged family member, Coco, watching soccer games with her family, and partaking in her favorite hobby, photography! A fun fact that many do not know is that she took photography all 4 years in high school and loved working in the darkroom!
Stay tuned for more employee spotlights, and don't forget to check out our past CryoSpotlights!