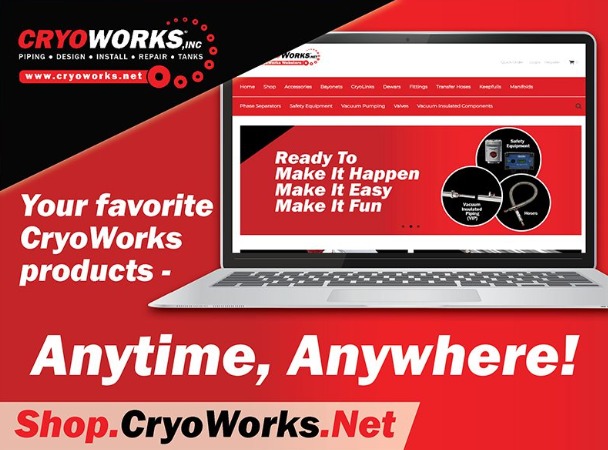 With the launch of our cryogenic e-commerce store, Shop.CryoWorks.Net, CryoWorks has made it easier than ever for customers to order a variety of products for the storage, distribution, and transfer of cryogenic fluids…online! Here are 5 reasons why Shop.CryoWorks.Net is the webstore for all things cryogenic products:
1. Quick Delivery
With most of our products in stock, you can count on next-day shipping on most items. CryoWorks also offers free "will call" pick-up, Monday through Friday, 7am – 4pm, PST. Feel free to stop by and say hello while you pick up your order!
2. Variety of Stock and Selection
On Shop.CryoWork.Net we stock a variety of products and well-known brands for your cryogenic system. CryoWorks knows when you need a part, you need it now! The part could be the difference between a week-long shutdown and a successful production run.
3. Lower Prices
By purchasing on Shop.CryoWorks.Net, we can offer the most competitive lowest price on some of our bestselling items, including Vacuum Insulated Transfer Hoses and our CryoLinks® Vacuum Insulated Pipe.
4. Save Time
Shop.CryoWorks.Net is open for orders 24 hours a day, 7 days a week! Need something in a hurry, we offer expedited shipping options! Most in-stock ground or express orders ship the same day if placed before 12 PST.
5. Convenient
When you register for an account on Shop.CryoWorks.Net, the possibilities are many! You can re-order from previous orders, sign-up for net payment terms, and access exclusive OEM pricing (when applicable).
Whether you shop on Shop.CryoWorks.Net or call your local CryoWorks Rep, we're ready to help you Make It Happen, Make It Easy, and Make It Fun!