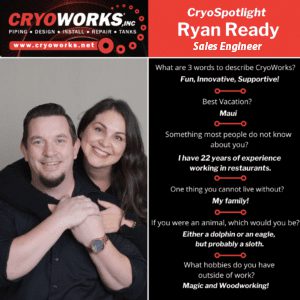 CryoSpotlight shines on our Sales Engineer, Ryan Ready! 
Ryan joined CryoWorks in 2020 as part of the Bake-Out Team. In further developing his skillset and knowledge on cryogenic materials, Ryan was recently promoted to his current role as a Sales Engineer assisting the Sales Team. With his personal mantra centered in perspective and gratitude, Ryan is excited to see himself with CryoWorks in the next 10 years, continuing to learn about the engineering side of cryogenics while designing systems.
Outside of work, Ryan enjoys woodworking as well as learning new magic tricks! When he isn't mastering a new trick he saw on YouTube, you can find him keeping up with his two children and reminiscing about his vacation to Maui. His favorite memory of his trip was visiting Warren & Annabelle's – a dining and magic experience. With 22 years of experience working in restaurants, he knows a good meal and magic trick when he sees one!
Stay tuned for more employee spotlights, and don't forget to check out our past CryoSpotlig