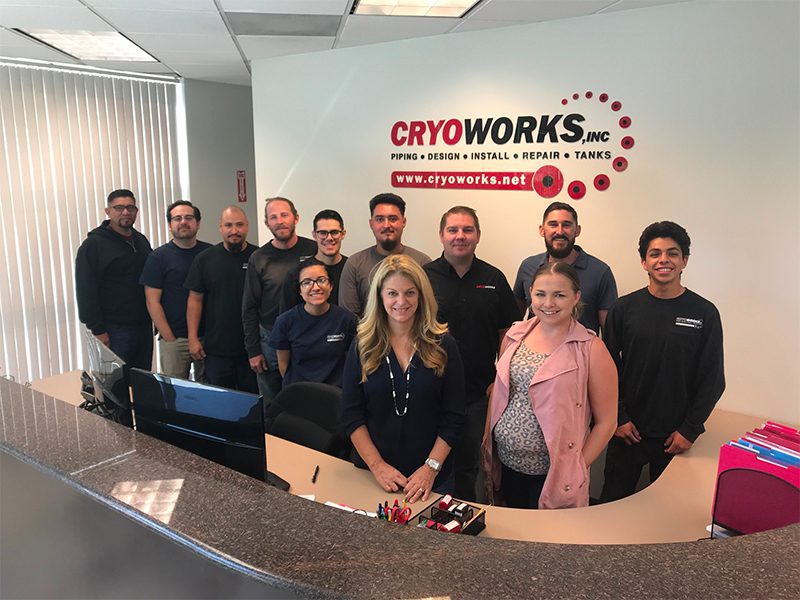 RCC Alumni & Employees at CryoWorks Pictured (left to right) back row: JD DeLaCruz, Joe DeSantis, Jimmy Garcia, Andrew Paine, Douglas Murray, Jonathan Williams, Tim Mast Jr., Nick Theiss, Raymond Diaz, Matthew Miller(not pictured). Pictured (left to right) front row: Nathalie Rosales, Tamara Sipos (RCCD Foundation Board member), Brittanie Evans.
Founded in 2009, CryoWorks, Inc. is a Riverside-based, family-owned and operated small business that provides design, sales, installation and service for cryogenic piping systems. Their customers turn to them for a wide range of products such as bayonets, valves, flex hoses, static vacuum, dynamic vacuum, rigid, flexible and/or hybrid cryogenic piping systems. CryoWorks provides new and used products for storage, distribution and end-user applications. Their diversified market includes food & beverage, semiconductor, electronics, aerospace, defense, entertainment, gas suppliers, solar, research & development, medical & pharmaceutical and automotive industries.
Tim and Donna Mast pursued their entrepreneurial dreams with CryoWorks. They began with their desire to take control of product quality and company culture. And since then, they've excelled in serving customers of all sorts with their knowledgeable staff and exceptional designs. Each individual of the CryoWorks family is proud to take part in the sales, design, engineering, and installation of cryogenic piping systems. CryoWorks continues to provide companies, large and small, with dependable customer service and top-notch products, all with that family-oriented culture.
CryoWorks Inc. is also a major donor to the Riverside City College Welding Program and employs 12 RCC Alumni in various positions within the organization. They established the CryoWorks Welding Technology Scholarship with a specific concentration in TIG welding at RCC in 2017.
"The CryoWorks Inc scholarship is just another example of the Tim and Donna's strong connection and commitment to RCC," said Foundation executive director Launa Wilson. "Members of their own family, as well as their CFO Tami Sipos and a dozen other CryoWorks employees are RCC alumni. I am grateful to know the Masts and honored that they are such strong corporate partners to RCC and the RCCD Foundation."
Congratulations, CryoWorks Inc., and thank you for the continued support!