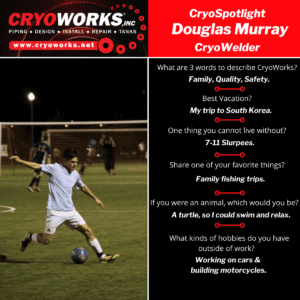 CryoWorks is excited to shine the CryoSpotlight on our TIG CryoWelder, Douglas Murray!
Murray joined our CryoWorks family in 2019, after graduating from Riverside City College's Welding Program. Since then, he has earned his nickname Dougie and has been Making it Happen, Easy and Fun as our TIG Welder. With his personal motto as "Believe It", he has big plans to keep learning and growing with the CryoWorks family.   
When he isn't in the CryoWorks shop, he enjoys working on cars, building motorcycles, and going on family fishing trips. A fun fact about Murray is he has gone to South Korea and considers it the best trip he has gone on so far.
At CryoWorks, we pride ourselves in celebrating our customers, vendors, and team members alike who make it possible to Make It Happen, Make it Easy and Make It Fun! 
Stay tuned next month for another employee spotlight and check out our past CryoSpotlights!