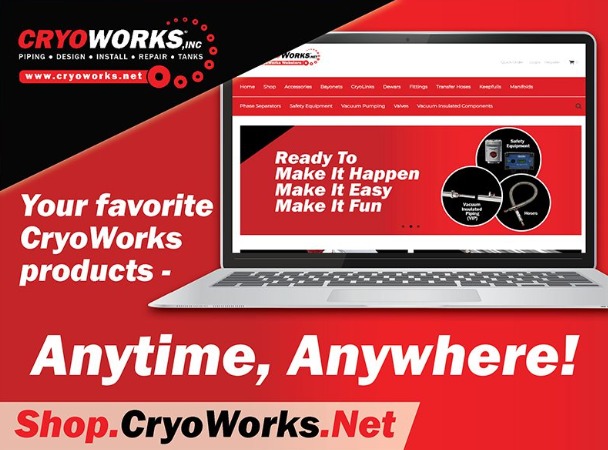 CryoWorks, Inc. has announced the launch of its e-commerce website, Shop.CryoWorks.Net. The inaugural e-commerce store from CryoWorks offers a variety of products for the storage, distribution, and transfer of cryogenic fluids.
"We are excited about the launch of Shop.CryoWorks.Net! It allows us to continue to partner with our customers to help keep their operations running efficiently as possible. Customers can track orders, view real-time delivery updates, and place orders online for products such as Vacuum Insulated Hoses, Vacuum Insulated Piping (VIP), and Cryogenic Valves among many others" says Tim Mast Jr., President/ CEO, of CryoWorks. "Digitalization is a key to the future of our growth to remain true to our mission to "Make It Happen, Make It Easy, and Make It Fun."
The launch of Shop.CryoWorks.Net provides several features to allow new and existing customers to Make It Happen, including:
Account Registration – Users can create an account on Shop.CryoWorks.Net to access history of previous orders, billing terms, as well as exclusive OEM pricing (when applicable).
Explore Products – Users can browse an extensive selection of cryogenic piping and accessories that are readily available.
Purchase and Ship Orders – Customers can place an order, checkout, and have their order processed within *48 business hours.
*Subject to Stock Availability.
CryoWorks provides high-quality, dependable products and exceptional services such as engineered cryogenic piping, transfer hoses, valves, tanks, safety equipment, and complex turn-key systems. We are committed to our mission "to Make It Happen, Make It Easy, Make It Fun" so that all customers, vendors, employees, and their families, value their relationship with CryoWorks as much as we value them.
For more information, visit: https://cryoworks.net
For more information about this press release, please contact:
Joceline De La Torre
Marketing Specialist
951-360-0920
jdelatorre@cryoworks.net