CryoWorks- Cryogenic Valves and Custom Manifolds
CryoWorks would like to highlight its ability to take complex control systems and package them into custom vacuum insulated valve manifolds designed specifically to the customer's design requirements and limitations. The pictures below showcase custom valve manifolds provided by CryoWorks for a Thermal Vacuum Chamber (TVAC).  TVAC chambers are used for satellite testing and space simulation. The vacuum insulated valve manifolds were designed, fabricated, tested, and installed by CryoWorks. 
Figure 1. illustrates an Inlet Valve Manifold that includes 12 circuits, each ½" NPS circuit incorporates two manual valves and one pneumatic actuated flow control valve. 
Figure 2.  is a Vent Valve Manifold designed for 12 circuits in a radial configuration, each incorporating a single 1" NPS pneumatic actuated valve.
Figure 3. Provides an example of a vacuum insulated valve manifold designed for use on an environmental test chamber. These valve manifolds can be designed and built to be incorporated by the chamber OEM or as an upgrade by the end user.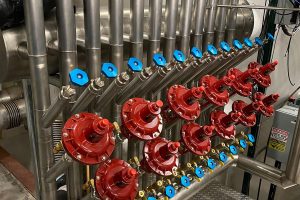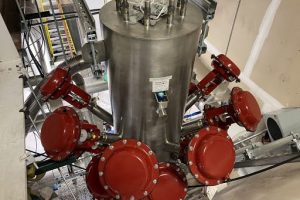 TVAC radial config. 12-circuit vent manifold
Environmental Test Chamber Manifold
CryoWorks cryogenic valves are designed and fabricated to exceed the highest industry standards. Available in both vacuum insulated and non-insulated models, our valves are used in piping systems, tank withdrawals, control manifolds, valve boxes, helium transfer lines, flexible transfer lines, dewars, e-stop controls, and other cryogenic systems. Our valves are also available from ½" OD to 12″ NPS diameters in manual, remote actuated (on/off or proportional flow control), and check valve configurations. They are available in either Globe, Right Angle, Y-Pattern, and Ball valve styles. Valves are approved for gaseous and liquid cryogen service and are rated to working temperatures down to: -452°F (-269°C / 4K)
Working Fluids:
Liquid Air • LAR – Liquid Argon • LHe – Liquid Helium • LH2 – Liquid Hydrogen 
LNG – Liquid Natural Gas (Methane) • LNe – Liquid Neon • LN2 – Liquid Nitrogen 
LOX – Liquid Oxygen
Both vacuum insulated and non-insulated cryogenic valves offer their own unique long term benefits.
Vacuum Insulated Valves
These valves are designed to significantly improve your liquid quality and delivery performance, reduce product losses, and eliminate the need for mechanical insulation around the valve. Our vacuum insulated valves improve safety conditions by eliminating ice and moisture that, if accumulated, could injure personnel or damage equipment. 
These valves are equipped with a 300 series stainless steel body in addition to an internal stem assembly that is interchangeable between manual and actuated valve styles. This allows for easy upgrades in the field and minimizes the number of spare parts required to keep on hand. Popular sizes and configurations are stocked for immediate shipment or system integration.
Non-Insulated Valves
This option is a low up-front cost alternative to our vacuum insulated valve. Available in bronze or stainless-steel bodies, these valves have manual operation, remote actuation, proportional control, and check-valve configurations; and are typically used in low-budget applications where the liquid quality is not critical and water or ice damage is not a concern.
This valve model is often reserved for occasional or temporary use-points. Internal gas traps are incorporated into our VIP end terminations when utilizing Non-Insulated Valves to help reduce product loss as the valve will not ice up when the line is not in use.
Accessories, E-Stops, and Assemblies are offered for optimum use and function
.
Accessories: standard and custom flow plugs, I/P transducers, positioners, feedback, limit switches, position indication, solenoids, regulators, and integral safety relief valves. Common valve soft goods kits are available in stock and ready to ship. 
E-Stop: Emergency Stop Valves are included in systems that require an emergency stop function and can be designed to stop flow if an oxygen monitor alarms, auxiliary alarm condition occurs, palm button is pushed, or loss of power is experienced.
Assemblies: Manifolds and Valve Boxes include our Vacuum Insulated Valves and Valve Accessories. Custom valve manifolds can be specifically designed for your application (geometry/space requirements, ergonomic valve orientations, with modular vacuum or incorporated into your system, custom valve trims and characteristics, etc.). 
Call CryoWorks now to speak with a knowledgeable Sales Representative.
Call us at: 951-360-0920