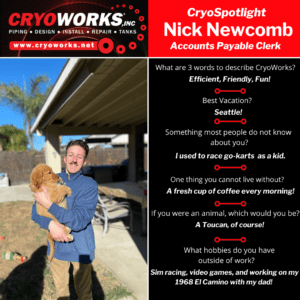 CryoSpotlight shines on Nick Newcomb, our Accounts Payable Clerk!
Nick joined CryoWorks in 2021 as part of the Accounting team. Known by a couple of CryoTeam Members as "Nickels", you can find him with a fresh cup of coffee in hand ready to start his day, processing invoices, assisting customers with questions, and working with all things numbers! In the next 10 years, Nick aspires to be part of CryoWorks' growth and part of the culture that he describes to be "efficient, friendly, and fun".
Outside of work, Nick enjoys all things motorsports: Sim racing, Nascar, to working on his 1968 El Camino with his dad! Ironically, he used to race go-karts as a kid, but has never driven a golf cart! He hopes to one day check it off his list while accompanied by his trusty co-pilot, his dog Nala!
Stay tuned for more employee spotlights, and don't forget to check out our past CryoSpotlights!