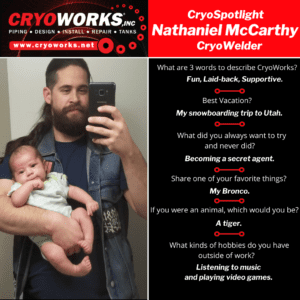 This month we shine the CryoSpotlight on our CryoWelder, Nathaniel McCarthy!
Since joining our CryoWorks family in 2020, McCarthy describes it as a "fun, laidback and supportive" environment. In the next couple of years, he would like to keep growing with the CryoWelder team, taking in as much as he can. He strives to continuously improve and learn through living and breathing by "if you mess up, don't dwell, just fix it".
Outside of CryoWorks, McCarthy enjoys listening to music and playing video games. Though he enjoys staying at home, he would recreate the best trips he has gone on, snowboarding in Utah, and off-roading/fishing in the Sierras. Many adventures await McCarthy and his baby boy in the years to come!
Stay tuned for more employee spotlights, and don't forget to check out our past CryoSpotlights!