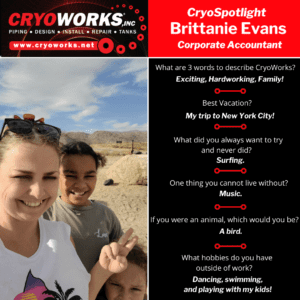 Our CryoSpotlight shines on our Corporate Accountant, Brittanie Evans!
Since joining CryoWorks in 2019, Brittanie has played a crucial role in our accounting operations, ranging from sales tax compliance to accounts payable. A fun fact is that Tami Sipos introduced Brittanie to CryoWorks, and she's been with us ever since! Brittanie's dream for CryoWorks is that in the next 10 years – we'll be in Mars; Remaining true to be the CryoWorks she knows as "Exciting, Hardworking, and Family"!
With her personal motto as "Live it up – life is short", Brittanie enjoys making the most out of her time by spending time with her kids, going to the beach, dancing, and swimming!
Stay tuned for more employee spotlights, and don't forget to check out our past CryoSpotlights!