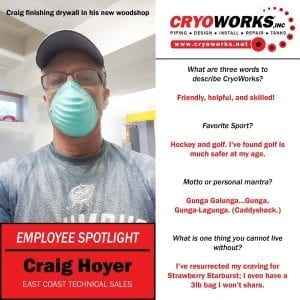 Today, the
CryoWorks
team is shining the CryoSpotlight on East Coast Technical Sales employee, Craig Hoyer! Let's get to know a tad more about the person behind the
sales
in this Q&A.
Hey, Craig, what are 3 words you would use to personally describe CryoWorks? I would say CryoWorks is friendly, helpful, and skilled!
What's on your wishlist for the next 10 years with CryoWorks? I would like to retire before the next 10 years! In the meantime, I'd like to help CryoWorks continue to grow as a company.
Do you have an office nickname? If so, what is it? If I have one, I have not heard it……..maybe that's a good thing?
What is something most people don't know about you? I've saved every golf scorecard that I've shot a round in the '70s (which aren't many!).
Share the best vacation you've been on. It's really hard to pick one, but I'd have to go with the vacation I took for my honeymoon. It was a two-week vacation and we did as little as possible…just enjoyed the sun and beach.
If you had to choose one animal to be, what would it be and why? Not a clue.
Do you have a motto or personal mantra? Gunga Galunga… Gunga, Gunga-Lagunga (Caddyshack).
Is there something you've always wanted to try, but never did? I've always wanted to try to eat raw tomatoes and enjoy it. But…I just…NEVER COULD. (Sorry, tomatoes…don't take it personally.)
Tell us one thing you can't live without? I've resurrected my craving for Strawberry Starburst; I even have a 3lb bag.
Share one of your favorite things. Strawberry Starburst…but I probably won't share.
What hobbies or interests do you have outside of work? I have my own woodworking shop. I'm also interested in basically any outdoor activity (except eating tomatoes). Some of my outside interests include playing hockey, boating, golf, woodworking, and vacationing with family. I'm interested in taking a road trip around the entire country.
Favorite Sport/Sports Team? I like to play hockey and golf. I like to watch college football (of course, graduating from OSU, my team is Ohio State).
Is there anything that you're doing differently since COVID-19 started (have you taken up a new hobby, home projects, video parties, caring for a new pet, etc.)? I've started to work on home projects that have been out there for a long while. For example, I'm working on closing off my new at-home office space with French doors. I might also take a shot at learning how to do stained glass to make the doors pop.
Stay tuned for more employee spotlights, and don't forget to check out our past CryoSpotlights: