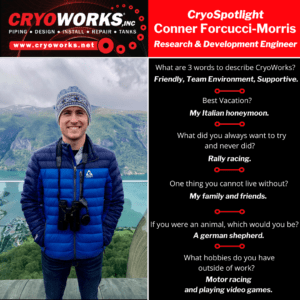 CryoWorks shines our CryoSpotlight on our Research and Development engineer, Conner Forcucci-Morris! Recently joining the CryoWorks family, he describes it to be a "friendly, supportive, team environment". As part of the Research and Development team, he is charged with helping the department grow in both product offerings and prototyping capabilities.
Outside of CryoWorks, Conner is a motor racing enthusiast! A couple of years ago, he won the award for Best Cost Analysis at a collegiate racecar building competition in Germany. Recently, he attended a Formula 1 race in Italy during his honeymoon. When he isn't dreaming of participating in rally racing, you can find Conner supporting his wife's macrame business at craft markets on the weekends!
Stay tuned for more employee spotlights, and don't forget to check out our past CryoSpotlights!